GENERAL INFORMATION
Check the setting values on the plans supplied with the machine for all interventions on the transmission belt tensioner If the belts periodically loosen after the break-in period, check the settings and condition of the mechanical components and replace the belt if necessary.
MACHINE CONDITION
The machine is in the stopped state. - Machine rotation is blocked and locked.
MATERIAL NEED
Special tool - Frequencymeter (3) and its usage.
PROCEDURE
1. Loosen the screws (5) without removing them. 2. Loosen the lock nuts (6 ; 7), without removing them. (i) Screws (4) are used to adjust the height. 3. Until the recommended belt tension is achieved Adjust the position of the tensioner roller (2) using the screw (8) and the control nut (7). • During operation, using the frequency meter (3), the belt check the voltage. 4. Tighten the lock nuts (6 ; 7). 5. Tighten the screws (5). 6. Release machine rotation, flange Make sure that the system (1) is inserted into the body. After each belt tension is adjusted, start the machine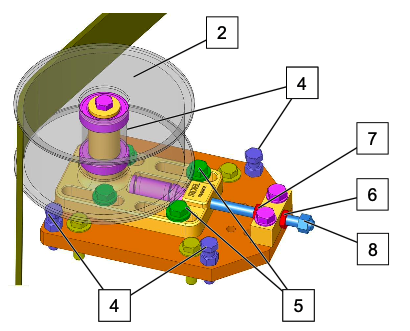 without any product and check the belt tension values.
BEFORE FINISH
Turn the machine several times using the machine rotation system.
Check the belt tension using the frequency meter (3) on the specified wire.
Check machine synchronization before starting production.