The term 'artificial intelligence' has been receiving a lot of attention recently and is being incorporated into everyday technologies. Bing.com, which is one of the largest search engines in the world and owned by Microsoft, a renowned company, has recently integrated an artificial intelligence-powered chatbot called Bing Concierge into its search engine in collaboration with OpenAI company. Using this bot for search queries has become more enjoyable and intriguing.
Create your dream image with Bing
Furthermore, Bing has recently introduced a feature that allows users to create their desired image with the help of the chatbot. All you have to do is describe the image you want with words, and the chatbot will generate the image for you.
To utilize the chat feature on Bing, the easiest and quickest way is to install the Microsoft Edge browser or Bing application on your device and log in to your Microsoft account.
As an example, we made a request to Bing to create an image of a 'monkey on horseback with sword in hand,' and it promptly generated the requested image.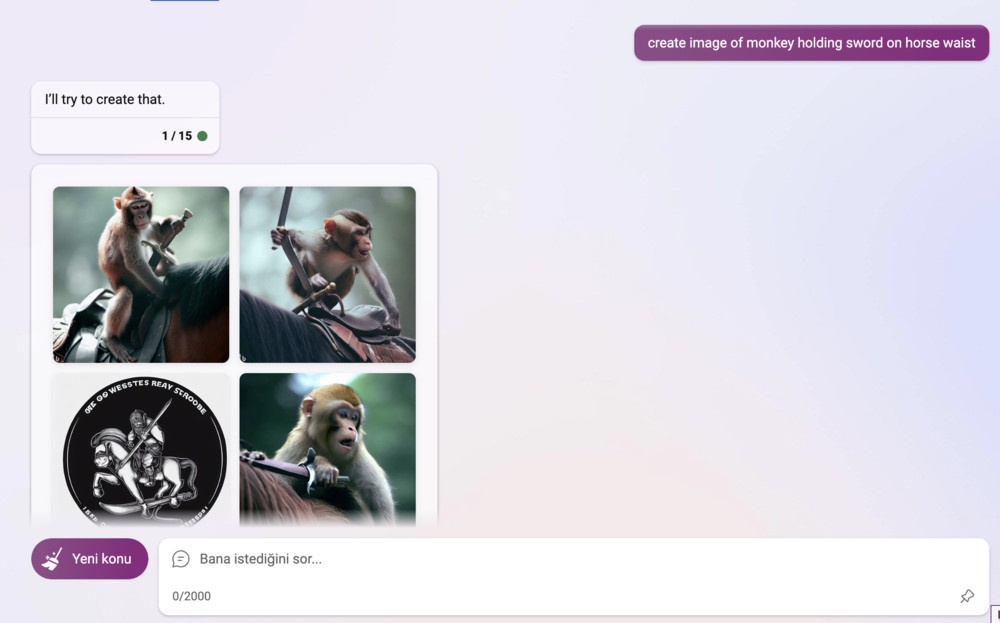 Previously, image searches were limited to the availability of images on the web. However, with Bing's new Image Creator feature, the potential for image search and creation has become almost limitless.
For those who have access to the Bing Image Creator preview, Image Creator is now fully integrated into the Bing chat experience, specifically in Creative mode. With this feature, users can provide a description of an image, add additional context such as location or event, and select an art style, and then Image Creator will create an image that matches the user's imagination. Think of it as your very own creative assistant.
Whether you need an image for a newsletter or want to redesign your living room and show it to your friends, all you have to do is type in a request such as "draw a picture" or "create an image" in the chat, and the Image Creator will take care of the rest. With Bing's Image Creator, the possibilities for image search and creation are virtually limitless